Projects » Montezuma (Gold)
Montezuma, near Bulawayo
Regional Geology
The Montezuma property is located in the southwest of the Zimbabwe Craton, an Archaean basement complex composed of broad areas of gneisses, deformed and underformed granites and greenstone belts. The Montezuma tenement lies within the eastern part of the Bulawayo Greenstone Belt which connects to the Filabusi Greenstone Belt to the east.

The Umzingwane Shear Zone, occurs on the southern margin of the Bulawayo Greenstone Belt and is composed of multiple subparallel major and second order shears. These structures trend WNW-ESE in the west but they converge to the east within the Montezuma claims area and undergo an E-W strike swing in the SE corner of the greenstone belt. The shear zone kinematics are dominantly dextral in the east.

The Crocodile Shear Zone swings into subparallelism with the Umzingwane Shear Zone in the southeast of the licence area. The convergence zone between the two shear zones represents a high strain constructional zone. This appears to have had an important control on shear zone hosted gold mineralization.

The geological model of orogenic mesothermal lode gold deposits in structurally controlled veins and shear zones within Archean greenstone belts is well-known.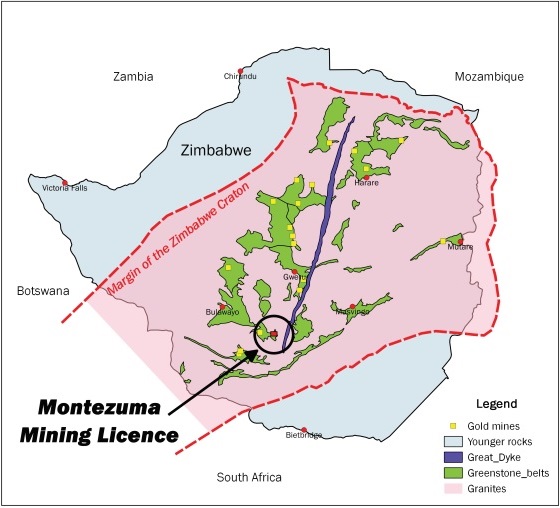 The Montezuma Mining Lease in the Bulawayo Greenstone Belt at intersection of two crustal-scale shears. Note how the WNW-striking Umzingwane Shear Zone (blue) curves in the region where it intersects the NNW-striking Crocodile Shear Zone (red). The Bulawayo Greenstone Belt host to a number of major gold mines, past and present.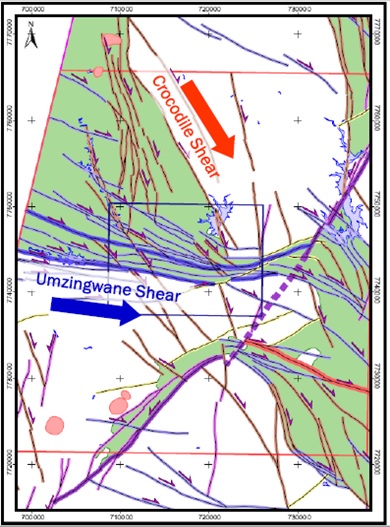 Fracture frequency greatly increases and spacing between fractures decreases within favourable rock types at the intersection of the major shears.
Property and Infrastructure
The Montezuma property is located 56km ESE of Bulawayo and 8km northeast of Mbalabala. Access is along the main arterial paved road (A6) for 60 km from Bulawayo to Beitbridge and 19km along a strip road from the 60km peg.

There is no power supply on Montezuma. A 33kV electrical power line is located within 5 – 10km of a mine just off Montezuma boundary. An 11 kilometre power line connects the mine substation to the main Southern African Power Pool grid. The nearby mine has a 100kva transformer installed at its site.

There is no water supply on Montezuma. The eastern margin of the licence is located 3.5km to the south of Inyankuni Dam. The southeast corner of the licence area lies 0.3km to the north of Umzingware River.

The Bulawayo/Gwanda railway line is close to the southern boundary of the licence area.
History of Exploration and Mining
The Montezuma tenement and hinterland have a long history of gold exploration and production. There are many old mines and artisanal workings throughout a wide area. Official gold production figures (Baglow, 1998) show 11 mines within close proximity to the Montezuma property recorded over 9,300 oz with an average grade of 5.89 g/t.

Baglow (1998) records output from 5 old mines within the licence area. Seventh Trial Mine (BIF target) produced the most gold while Zimba Mine returned the highest grade (10.4 g/t). Tinker Mining has not mined at Montezuma.

Between1998 to 2007 exploration involved soil sampling, trenching and drilling. Over 1,600 samples from overburden were taken in two areas covering 520,000 sq. metres. Circa 260 assays reported values over 1 g/t. Over 30 exceeded 10 g/t. Over 3,000 metres of trenching and 5,000 metres of cross trenching were completed.

In 2000 and 2007 16 boreholes were drilled in several areas. In the eastern sector a borehole gave 5 good intersections with grade of 6.92 g/t, 7.12 g/t, 7.6 g/t, 10.6 g/t and 13.4 g/t. Another borehole located nearby had a grade range of 3.2 g/t to 16.8 g/t. From a banded iron formation site a borehole returned 2.87 g/t over 5m from 176.4m below surface. Similar boreholes gave encouraging results.

Landsat ETM + studies (2007 & 2010) and GeoEye – 1 study (2017) allowed vein systems to be confirmed and exploration targets were identified at multiple locations.

A small rock sampling programme was completed in 2020. Results from Activation Laboratories, Canada identified gold, silver and other pathfinder minerals. The highest gold grade was 23.1 g/t analysed by fire assay and came from a quartz vein in MZ-23 target area. The second highest gold concentration of 3.46 g/t was reported in a sample of banded iron formation. QA/QC methodology was to international reporting standards.

In 2020 Scout Aerial Africa conducted an Orthophoto Mosaic Survey over 974 ha at Montezuma. The interpretation by Murphy Geological Services was generally undertaken at between 1:100 and 1:250 scale due to the very high resolution (2.6cm per pixel) of the orthomosaic. DSM and DTM were used to help identify transverse faults and more resistant banded iron formation. Vein systems, BIF areas and exploration targets were better understood on a more complete dataset.

No gold production has taken place on Montezuma since 1985. The property has not been explored by modern methods. Recent geochemical study and geophysical survey added significantly to findings from earlier Landsat ETM+ and GeoEye – 1 studies.

Structural Interpretation Studies
Landsat ETM+ structural sensing studies were completed by Murphy Geological Services (MGS) in 2007 and 2017 to create a structural interpretation of the Montezuma tenement and its hinterland. Initially, 10 exploration targets were identified.
In 2017 MGS conducted another structural interpretation over Montezuma's 1,177 ha and hinterland. GeoEye – 1 used high resolution imagery. This allowed the detailed analysis of veins, third order structures, artisanal workings/areas of ground disturbance which were not visible on the Landsat data. Satellite image analysis has revealed for the first time the very high density of veins and the occurrence of favourable structural features in the south-east of the property.
The GeoEye-1 study identified:
9 vein systems; high density of closely spaced vein systems.

Over 215 artisanal workings throughout the eastern and central parts of the tenement.

28 exploration targets. 9 are priority 1 targets with 2 targets having open pit potential.

The presence of extensive artisanal workings along veins and restraining bends along shears that control the veins.

Target MZ-23 is the most prospective of the priority 1 targets and is supported by past soil sampling and drilling results.

Potential for both low cost tonnage pittable gold deposits and high grade narrow vein deposits.

Targets can be prioritised by the number of features in any one area.

The targets have been defined on the basis of the results of the GeoEye-1 interpretation and past exploration results.
Although satellite images do not identify gold deposits directly, experts in image analysis and structural geology can locate the positions of a range of structural and environmental features which are effectively proxies for gold.
The criteria used to identify the targets included the presence of major/second order shears, restraining bends along shears, converging shears, splays along shears, presence of old mines and/or artisanal workings, presence of veins, particularly veins that have been worked by artisanal miners, spoil heaps, areas of extensive quartz float/bleached zones and significant gold assays from past exploration.
The most important of the targeting criteria are the presence of extensive artisanal workings along veins and restraining bends along the shears that control the veins.
Montezuma – Development Focus
Past exploration work, technical studies and geophysical survey have defined the opportunities on offer at Montezuma with over 1,000 ha (85%) unexplored.

Identified are 28 exploration targets in bedrock and banded iron formation over an area of 729,000 sq. m. MZ-23 (93,000 sq. m) is the most prospective priority 1 target with significant vein systems. Many drill targets in MZ-23 are of immediate importance.

Phase 1 involves the following objectives:
Shallow diamond drilling at 15 locations on 3 vein systems with samples analysed by Activation Laboratories, Canada.

Investigate areas of intense artisanal activity on vein systems for own exploitation.

Examine banded iron formation structures identified as exploration targets for potential mining.

Set up small scale mining operation in partnership or under own control.
Itinerant Resources will partner with a gold exploration/production company. The real interest in the Montezuma licence lies not in what has been done but what has not been done. It seems that systematic exploration has hardly begun with over 1,000 ha unexplored.